Sarah S. Elkind, Ph.D.
Environmental, urban and political history of the United States
<![if !supportEmptyParas]> <![endif]>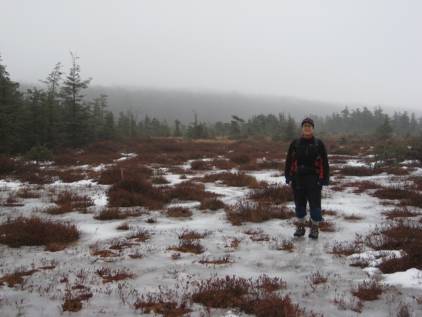 Photo by Beth Holmberg, Ponkapoag Pond, Massachusetts, 2009
<![if !supportEmptyParas]> <![endif]>
Department of History
San Diego State University
San Diego, CA 92182-6050
(619) 594-0930
selkind@mail.sdsu.edu
<![if !supportEmptyParas]> <![endif]>

For information about San Diego State's Sustainability Major and advising, please go to the Sustainability web page.
Internships in Public History:  Service learning opportunities at historical parks, museums and archives. An internship can satisfy the History capstone requirement for history majors and provide valuable work experience.
Research:
Environmental policy and policy formation:

How did influential groups secure and exercise their power, and why Americans expand or constrain government services.


Urban infrastructure and the urban environment:

Water supply, sewage networks, air pollution control, flood control, oil drilling and regulation in cities, the public utility movement, and national water resources planning.


Cities and their environments:

Boston, Massachusetts Oakland and Berkeley, California Los Angeles, California
<![if !supportEmptyParas]> <![endif]>
Water Resource Policy and Irrigation in Spain.
Public History, Memory and the Construction of National Culture.
How Local Politics Shape Federal Policy: Business, Power and the Environment in Twentieth Century Los Angles, University of North Carolina Press, 2011.
Bay Cities and Water Politics: The Battle for Resources in Boston and Oakland, 1880-1930, University Press of Kansas, 1998.
Public Works and Public Health: Reflections on Urban Politics and Environment, 1880-1925, in Essays in Public Works History, no. 19, Public Works Historical Society, 1999.
<![if !supportEmptyParas]> <![endif]>
Articles published on oil drilling in Los Angeles, environmental justice, public beaches, and the impact of war on environmental policy. For more information about my research and publications, see my curriculum vitae.
Blogs, Interviews and Public History:
"The Allure of Inefficient Government"
http://uncpressblog.com/2012/03/20/sarah-s-elkind-the-allure-of-an-inefficient-government/
"Los Angeles and the History of Air Pollution"
http://uncpressblog.com/2012/02/23/sarah-s-elkind-los-angeles-and-the-history-of-air-pollution/
Gretchen Cuda Kroen, "Why Local Elections Matter More to your Personal Finance," Marketplace Money, American Public Radio, November 2012.
Frank Esmann, Danish national radio, on American oil use and policy, for "Olie og kampen om vores fremtid" (Oil and the Battle for Our Future) documentary on global energy use. September and October 2011.
Paul M. Barrett, Businessweek on the Deep Horizon oil spill and American oil policy. See Paul M. Barrett, "Obama and BP at Risk over Oil Spill," Businessweek, 3 June 2010.
Bryan Walsh, Time on Deep Horizon oil spill. See Bryan Walsh, "The Gulf Disaster," 10 Jun 2010.
Exhibit Advisor, Tuna!, San Diego History Center, April 2012. Researched and produced text on the environmental history of decline of San Diego's tuna industry.
Exhibit Advisor, The Estudillo House and the History of San Diego Tourism exhibit, Old Town San Diego State Historic Park, December 2011.
Fyrkat Viking Center and Moesgaard Museum, Denmark. Demonstrations of copper-smithing and iron smelting, 2010.
<![if !supportEmptyParas]> <![endif]><![if !supportEmptyParas]> <![endif]>
Undergraduate Courses:
History 110: US History since 1877
History 441: Unnatural Disasters
History 445: California History
History 452: Advanced Internships in Public History
History 584: Environmental History of the United States
History 584: Press, Politics and the Environment
History 584: Water in the West
History 584: The Urban Environment
<![if !supportLists]>
Graduate Seminars
<![if !supportLists]>American Political History
Environmental History
History of Los Angeles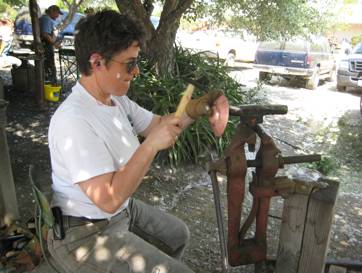 Photo by Beth Holmberg, 2008.
<![if !supportEmptyParas]> <![endif]>
<![if !supportEmptyParas]> <![endif]> <![if !supportEmptyParas]> <![endif]>
<![if !supportEmptyParas]> <![endif]>
The information on this page represents that of Sarah S. Elkind and not necessarily that of San Diego State University. Sarah S. Elkind takes full responsibility for the information presented.